I seriously don't get it why certain parents just don't see that it is wrong to bring kids under the age 12 to a midnight movie. Haven't you heard of a fixed bedtime before? Even if it is the weekend during a school holiday do you seriously feel that kids that age should be up until 3am? And to think parents are complaining constantly about teenagers always staying up late or sneaking out at night. Who's fault do you think that is?
And does age restriction mean anything to you? Do you feel that a movie where soldiers blowing things up and women running around half naked is appropriate for children age 12 and under? Sure the ratings say PG13 but don't you as parents feel the need to at least check out how the movie is before you actually let your kids watch them. Movie trailers nowadays pretty much give away the whole plot but if you're still clueless on how the movie is gonna be like then take the safe alternative and DON'T BRING YOUR KIDS! Do you want them to turn out like this?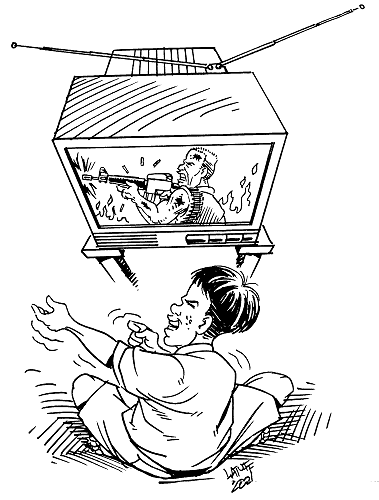 And what is up with parents who just doesn't get it that toddlers don't belong in a place that requires you to stay still for more than 15 minutes? And how could you even think that people would find it cute when your toddler would suddenly start kicking the back of other people's seat or start playing with other people's heads just because they're bored. It is not cute. It is annoying.

I repeat, A-N-N-O-Y-I-N-G.
Parents, please do me a favour and refrain from taking your kids to a grownup movie. There's plenty of age appropriate movies out there and I'm sure with those kind of movies grownups can't say a word when kids start screaming and run up and down the aisle. It is after all a kid's movie. And if you really want to watch a grownup movie, get a babysitter. If you can't find one then buy the DVD. At least at home when your kids start getting bored of the movie the only people that they'll annoy are their parents.