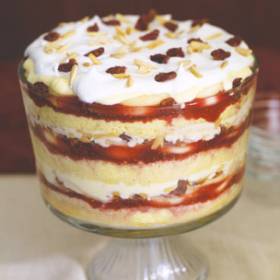 Made this today. Thought I'd share the how to...
Things You'll Need:
1 pound cake (pre-made or freshly baked)/ swiss rolls

2 cups chilled heavy whipping cream
3 cups custard
1 1/2 cups chopped strawberry / 1 large can fruit cocktail

1/2 cup strawberry preserves/ flavoured jelly

Large glass bowl
Prepare the bowl. Line the bowl with slices of pound cake.
Brush strawberry preserves onto the cake and set aside. If using jelly, jelly mix must be prepared beforehand. Melt sugar with some water and moisten cake with the sugar water. You can also substitute the sugar water with syrup from the can of fruit cocktail. After the jelly you have prepared hardens scoop it in thin layers onto the cake.
Spoon one layer of strawberries or fruit cocktail (make sure it is evenly spread out), and then 1/3 of cold custard on top of it.
Add more cake layers and repeat step 2.
Create as many layers as you wish.
Top final layer with 1/3 of cold custard, chopped strawberries or fruit followed by whipped cream.
Leave to set in refrigerator. Serve cold.